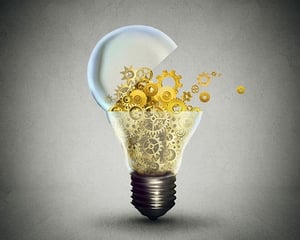 The use of blockchain technology is exploding in nearly every sector of the economy - from online gambling to the exchange of fine pieces of art. According to some industry experts, healthcare may be the next wave. Currently, very few healthcare providers are familiar with the technology, but they should become aware that it could provide a variety of benefits to both patients and providers. During Becker's 4th Annual Health IT + Revenue Cycle Conference this year in Chicago, a panel discussed 5 key issues related to the development of blockchain in healthcare.
Blockchain as a Framework
Blockchain is not a standalone technology that a hospital or other provider can just bring into their facility and expect benefits. It is fundamentally a framework for secure exchanges provided by something called smart contracts. In the context of healthcare, this framework can provide a decentralized, yet protected, database of all kinds of records. Everything from patient records to clinical trials results could be stored on the blockchain. The real benefit of this technology shows up when data on the blockchain is shared throughout the entire healthcare system.
Lack of Encryption
Many believe that blockchain technology and data encryption go hand in hand, but this simply isn't the case. The data stored on a straightforward blockchain is not encrypted by default, so anyone can see it plainly if certain steps aren't taken. A large hospital or other healthcare provider, however, can implement a blockchain ledger with encryption embedded in order to protect the organization from external attacks and threats. This system can be set up with multiple users who have different levels of access privileges. It could also help prevent data corruption and hardware failure.
Tracking Assets
One of the most exciting aspects of blockchain in the healthcare system is the ability to track assets. Claims, payments, medical device tokens, and other records can be tracked according to status, location, and a variety of other factors. By giving providers and patients the ability to track information across the entire network, there is less likely to be confusion or disagreements about the delivery of care. Blockchain for this purpose could be used internally within one organization or across a variety of healthcare providers and payers. This could benefit outcomes for patients and costs for providers.
Protecting Data Integrity
The integrity of medical records is absolutely crucial. Protecting data not only ensures patient privacy, but it's required for delivering care that has the best chance of improving lives. Blockchain is a decentralized system that requires strict authentication rules for modifying data, making it a workable database solution for the industry. A permissioned blockchain can exist within a single large organization where access is only granted to authorized personnel. It can be used to protect basic patient information, prescriptions, medical procedures, claims, and billing.
Overestimating Blockchain's Abilities
While blockchain could prove to be a valuable technological tool for the healthcare industry, it's important to not overestimate its ability to fix some core problems. In other industries, overzealous investment in blockchain technology due to overly optimistic expectations cost some organizations a lot of money. Providers who use blockchain will need to implement a variety of other solutions to improve their level of care and ensure a positive revenue stream. These solutions could include other big data technologies as well as outsourced billing and claims services.
Blockchain technology could help create a variety of applications for healthcare, including population health analytics, secure databases, cryptocurrency based payment systems and drug tracing systems. The success of all these applications depends on the adoptions of blockchain throughout the healthcare ecosystem as the real benefits of the technology come through widely popular usage. This technology is a popular topic for discussion in the industry, and many companies are currently developing products and services to take advantage.